How Do You Explain Fastenal's Valuation?
Fastenal Company (Nasdaq:FAST) is expected to report earnings on Tuesday July 12th before the market opens. The company has missed Wall Street's revenue and net income estimates in three out of the last four quarters. However, the stock appears immune to these negative surprises even as management continues to warn investors of economic headwinds.
Over the years, Fastenal has been a mystery to fundamental investors. The company has historically outperformed its competition but investors are typically forward looking. We don't care about how well a company hasperformed, we care about how well a company will perform. For example, take a look at the chart below that compares Fastenal's projected 5 year EBITDAgrowth rate vs competitors: MSC Industrial (NYSE:MSM), W.W. Grainger(NYSE:GWW), HD Supply (Nasdaq:HDS) and WESCO International(NYSE:WCC).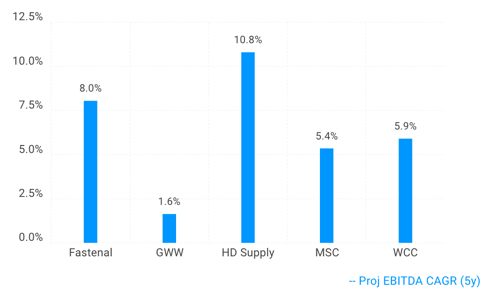 Fastenal's EBITDA, a useful proxy for cash flow, is not projected to grow much higher than its peer group. However, notice how the company's EBITDA multiples trade at a premium to this same peer group in the chart below.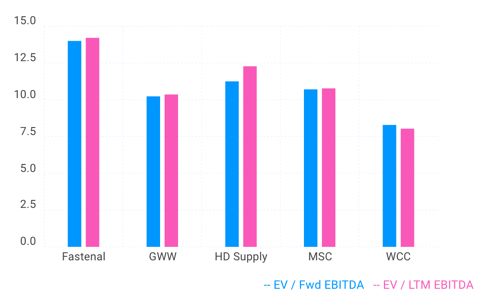 How do we explain this?
Income investors find Fastenal's dividend yield and growth rate highly attractive and are willing to pay a premium for it. The company has increased its dividends paid out to common shareholders on an average of ~20% per year over the last 5 years. However, this growth rate is not sustainable. The table below highlights how the company has needed to increase its payout ratio in order to keep up with this dividend growth rate that income investors love so much. Notice the company's YTD payout ratio currently has creeped all the way up to 69%.
On a fundamental basis, Fastenal's fair value stands at $34.20 per share which implies a (negative) 23% margin of safety. However, the company is a dividend paying machine that income investors love. While a dividend growth rate of 20% is unsustainable, it's unlikely Fastenal's valuation will come back down to earth anytime soon unless the company serves up a huge earnings miss on Tuesday.