Watch For Regeneron's EBITDA Margin on Earnings Day
Regeneron Pharmaceuticals (Nasdaq:REGN) is expected to report earnings on Thursday July 14th after the market close. Since 2011, the company has grown its revenues from $445 million to over $4.4 billion as of March 2016. However, Regeneron seems to have fallen victim to its own success with its share price down over 25% YoY.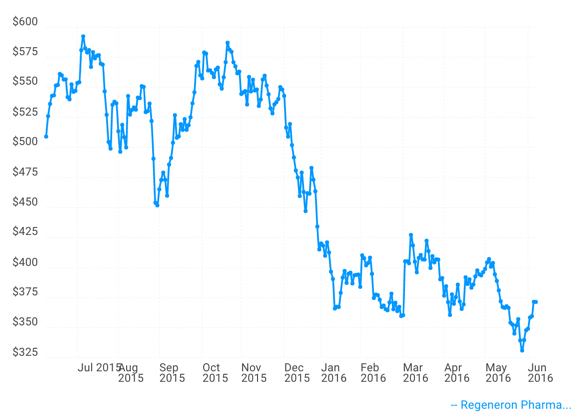 Shares prices have fallen steadily since December after the company missed its Q4'15 EBITDAestimate by a notable 25% showing signs of margin pressure. The biopharmaceutical company is expected to report top line growth of 40% YoY while EBITDA is projected to grow only 4%. The chart below shows Regeneron's earnings surprises from the last four quarters. You can see the last two quarters have left investors disappointed.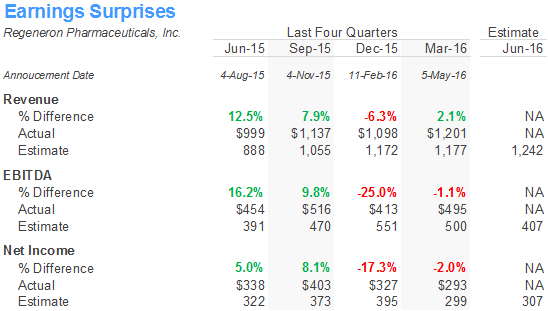 What to Watch:
The street expects Q2'16 EBITDA margin to come in at 33% compared to 46% in Q2'15. This is significantly below what investors have grown accustomed to seeing over the last few quarters. Missing or beating this mark will be telling for whether the company can reach Wall Street's fiscal year 2016 EBITDA margin of ~40%.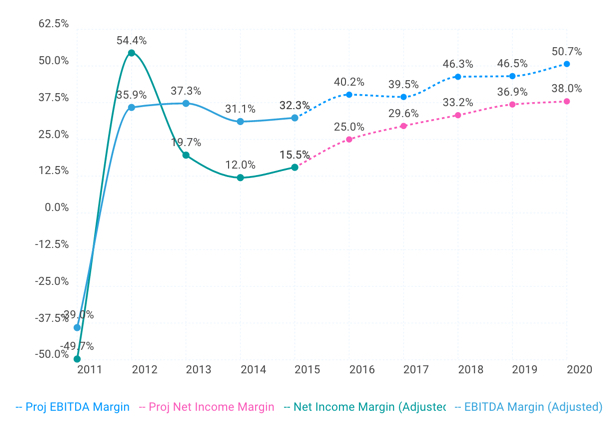 Regeneron's finbox.io fair value currently stands at $438 per share using the consensus Wall Street forecast above. If the company can beat the Street's Q2'16 EBITDA estimate, expect shares to begin trending upward to its fair value. The stock's margin of safety currently stands at 18%.
source: https://finbox.io/REGN